Deep Fried Provolone and Asparagus Ravioli
Fried Provolone and Asparagus Ravioli is a fun and delicious appetizer for audience of all ages! With crispy shell and soft cheesy filling, what's not to like? Kiddos love fried food! Pair this with a glass of Pinot Noir, you will steal every adult's heart away!You can also turn this into a main dish by adding a side of your favourite salad.
For this recipe, you'll need: a frying pan, a dough roller and a medium-sized pot.
Pairing Suggestion: Enjoy this dish with a glass of red wine. We recommend Pinot Noir.
Ingredients
For the dough:
• 500g flour
• 200g butter
• Water and salt
• 1 egg yolk
• Canola oil for frying
For the filling:
• Asparagus, finely chopped
• Red onion, thinly sliced
• Olive oil
• Salt and pepper
• Tanto Latte Provolone, cubed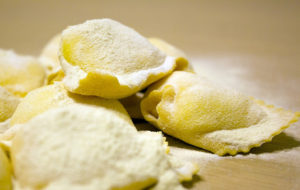 Instructions
For the filling:
• Bring a pot of water to boil
• Cook the ravioli and set aside to completely dry
• Warm the olive oil in a pot over medium heat until shimmering
• Add the red onion and asparagus
• Set aside and let cool
• While the vegetables are cooling, add provolone
• Add salt and pepper to taste
For the dough
• Heat canola oil in a deep frying pan over low heat
• While the oil is warming, prepare ravioli dough
• Cut in round shapes around 5 inch each
• Stuff the dough with vegetables and provolone filling
• Form a half moon shaped ravioli and seal the edges with egg yolk
• Fry the raviolis for about 3 minutes, flipping half way through
• Take them out when they are nicely golden brown on each side
Other Provolone Cheese Recipe Ideas
Provolone is commonly used in sandwich recipes, baked pasta, as a snacking cheese, and in grilled dishes. Depending on the cheese age, the taste could be different. However, usually after two months, we can appreciate Provolone's full taste and the aromas that this cheese can offer. Its flavour becomes stronger and tangier with age. For more information about our Provolone Cheese, visit our store today!