Parsley Pesto with Primo Sale Recipe
Primo Sale is made from slightly pressed curds, which create a soft texture that makes it easy to be a topping on any slice of toast, bread or bagel. 
This recipe makes a perfect quick breakfast or dress it up as an appetizer and you can wow anyone at your next dinner party. For this recipe, you'll need: a mixing bowl and your favourite serving dish/platter.
Pairing Suggestion: Primo Sale pairs well with a cold glass of Sauvignon Blanc, or have it with a glass of your favourite mimosa for brunch!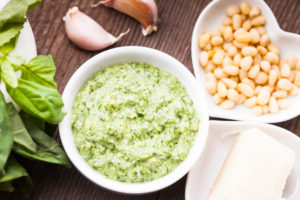 Ingredients
• A bunch of parsley
• 2 cloves of garlic
• 2 filets of anchovies
• 1/2 tsp of chilli flake
• Extra virgin olive oil (EVOO)
• Pinch of salt
• Toasted bread
Instructions
• Chop parsley finely together with the garlic and anchovies
• Transfer everything to a mixing bowl
• Mix parsley mixture with chilli flakes and olive oil to make a paste
• Add salt to taste
• Add primo sale on top of the bread and top with the pesto
Other Primo Sale Recipe Ideas
Primo Sale can also be used fresh on bread or in a baked dish. For more information about our Primo Sale, visit our store today!