Poached Egg Au Gratin with Black Truffle Cheese
If you are a cheese lover, the term "au gratin" needs to be added to your dictionary. "Au gratin", adopted from French culinary, refers to a dish that is baked with a topping of seasoned breadcrumbs and cheese. The au gratin topping should be golden brown, which can be achieved by baking or by placing the dish under a broiler. It's a versatile topper that's an easy way to add flavor and of course, more cheese, to numerous dishes. (source: The Spruce).
Our Poached Egg Au Gratin recipe is a modern take on both "au gratin" and your favourite brunch dish - egg benedict. If you are a fan of cheese and truffle, this will be the best thing that has ever happened to your weekend brunch.
For this recipe, you'll need: a pot, a small sized pan, a slotted spoon, a spatula, a lined bowl and a baking pan.
Pairing Suggestion: Enjoy with a glass of dry red wine, we recommend Cabernet Sauvignon or Shiraz..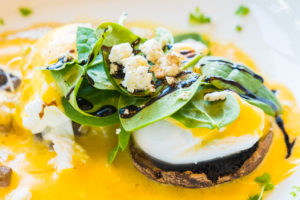 Ingredients
• 2 Eggs
• 2 Slices of rustic bread
• 4 slices of your choice of ham
• Mushrooms, thinly sliced
• Extra Virgin Olive Oil (EVOO)
• Salt and pepper to taste
Instructions
• Preheat oven to 450
• Cut 2 thick slices of rustic bread
• Place 2 slices of ham on top of each slice of bread
• Add the mushrooms on top of ham
• Place one egg on each of the bread
• Add two spoon of Black Truffle Cheese on top of the eggs
• Place everything on a baking pan and put in pre-heated oven for 2 minutes, or until the cheese is slightly brown
For the mushrooms
• In a small pan, heat EVOO on medium heat
• Add the mushroom
• Cook for about 10 minutes, stirring occasionally, so the mushrooms release their moisture and brown
For the egg
• Fill the pot with 3 inches of water
• Bring to a boil over high heat
• Add the vinegar and reduce the heat to medium or medium-low, so the water is barely bubbling at the edges
• Gently break the eggs, one at a time
• Use a spatula swirl the water a few times to shape the white around the yolk as needed
• Cook for 2 to 4 minutes, depending on how runny you like your eggs
• Use a slotted spoon to transfer to the lined bowl
• Repeat for the other egg
Other Black Truffle Cheese Recipe Ideas
Because of its soft, fresh and spreadable quality, Tanto Latte Black Truffle Cheese can be used as a spread, as a dip or in your melted in your favourite pasta recipe. It adds an amazing aroma and flavour to any recipe. For more information about our Black Truffle Cheese, visit our store today!