Crottin Salad with Grilled Paglierina
Crottin Salad, adopted from French culinary, refers to a dish that has baked Crottin de Chavignol on green salad. In this recipe, we are going to add a modern Italian twist to it with our Paglierina!
This recipe is perfect for a romantic brunch, a quick and easy vegetarian dinner or for when you would like to try something new that require little to no effort. Even though Paglierina is commonly eaten fresh, you will find this grilled recipe very recipe!
For this recipe, you'll need: grilling pan and a mixing bowl
Pairing Suggestion: Enjoy with a glass of red wine, we recommend Pinot Noir or Müller-Thurgau.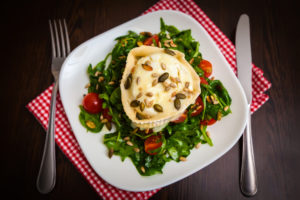 Ingredients
• Mixed greens of your choice
• Garlic toasted rustic bread
• 1 pear, thinly sliced
• Walnuts, chopped
• Raspberry vinaigrette
Instructions
• Preheat the grilling pan
• Grill or slightly sear Paglierina
• Arrange the greens on a plate
• Place the cheese on the slice of bread
• Grill for 1 minute, or until cheese melted lightly on the bread
• Add the pear slices and walnuts on top of the salad
• Drizzle with raspberry vinaigrette
• Place the bread on top
Other Paglierina Cheese Recipe Ideas
Because of its soft but compact quality, Tanto Latte Paglierina Cheese can be melted in your favourite pasta recipe, eaten fresh as a snack or added as an addition to your charcuterie platter. For more information about our Paglierina Cheese, visit our store today!