Vegetarian Roasted Ricotta Stuffed Peppers
Looking for an easy appetizer for your picky vegetarian friends? Look no further! Save this easy-to-make Vegetarian Roasted Ricotta Stuffed Peppers recipe for your next dinner party! This stuffed pepper recipe is a rare low-carb, low-fat, low-sodium and healthy all around recipe, that is perfect for the pickiest health junkie.
The best part: it requires minimal prep time, which is also perfect for a lazy weekend day, when all you want to do is Netflix and chill.
For this recipe, you'll need: a mixing bowl and a baking pan. You can serve this on top of some mixed greens or drizzle olive oil on top as an appetizer.
Pairing Suggestion: Enjoy with a glass of white wine, we recommend Pinot Grigio.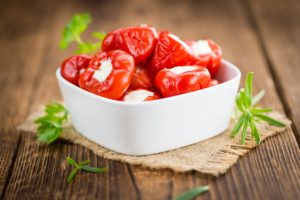 Ingredients
• Bell peppers of your choice (feel free to mix up the colours)
• Pinch of sweet paprika
• Chives, finely chopped
• Salt and pepper to taste
Instructions
• Preheat oven to 425
• Roast the peppers for 25 minutes, or until the skins are wrinkled and charred
• Set aside to cool, while making ricotta mix
• In mixing bowl, combine ricotta with salt, pepper, sweet paprika and finely chopped chives
• Peel the peppers' skins and slice each pepper in 4 quarters
• Stuff the peppers with ricotta mix
Tips: You can also finely chop leafy greens like spinach or your nuts of your choice to add in the ricotta mix for more texture.
Other Ricotta Cheese Recipe Ideas
Because of its soft, fresh and spreadable quality, Ricotta can be eaten fresh by itself, with a salad, spreader on toast, as a dip or in your favourite lasagna recipe. For more information about our Ricotta Cheese, visit our store today!